Efficient Fleming Island Painting Contractor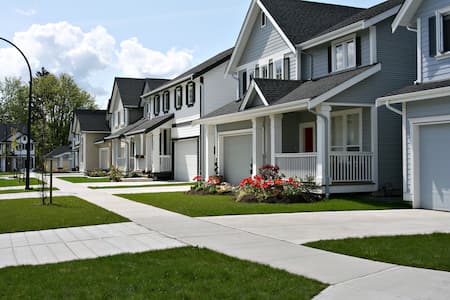 Painting your home is one of the most effective and most cost-efficient ways to improve it, and the professional Fleming Island painting contractors at St. Johns Painting, LLC can guarantee that your new paint job will be significantly improve your home. Our professional painting services can increase your Fleming Island home's resale value, improve its interior design, and increase its curb appeal. We've spent more than 30 years working in the painting industry, so we can guarantee your complete satisfaction with all of the work we provide.
At every job we work, we provide our customers with high quality craftsmanship, the best materials on the market, and customer service that is unparalleled in the industry. Our Fleming Island painting contractors work with all of our customers directly so that we can ensure they're getting everything they need from our services. We provide a number of related services as well, including drywall repairs, waterproofing, and pressure washing.
No matter how small or large the job is, we'll do whatever it takes to make sure that you're happy with the results, and we'll always complete the job within your time frame and your budget.
Give our Painter a call today with any questions you have about the services we provide, or to schedule your appointment, and we'll be looking forward to working with you.
House Painting Services in Fleming Island
As a homeowner, you need to be able to keep your home as attractive as possible at all times. Our Fleming Island painting services are a great way to make sure that it's always looking its best both inside and out.
We'll begin an interior painting job by discussing the project with you and helping you decide on the perfect colors for the job based on factors including your current interior design and the atmosphere you'd like to create. Our professionals use high quality paints and other materials so we can always ensure a high quality job.
When we're hired for exterior painting, we'll make sure that your Fleming Island home looks its best, and also that it's in the healthiest condition possible. We'll pressure wash your home's exterior to remove any grime, build-up, mold, or mildew, which will help keep your home healthy and make sure the paint properly adheres to the surface. We'll make sure that you receive the highest quality paint job possible, and we won't consider the job done until you're completely satisfied with the work.
Fleming Island Drywall Repairs
Drywall might be damaged at any time, whether it's because mold growth or just a doorknob that's accidentally slammed against it. And no matter what the cause of the damage is, it can be unsightly and problematic for your Fleming Island home. Our professionals can repair drywall in Fleming Island and restore to like-new conditions as a standalone service or as part of an interior painting job.
Our Fleming Island, FL Painting Services Include: