Improve Your Workplace With Office Painting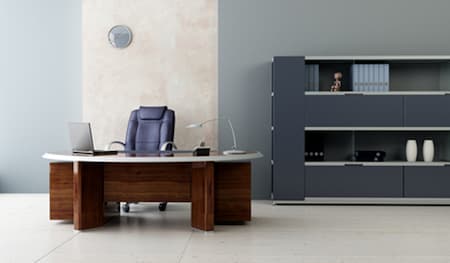 Your Jacksonville business could benefit from a fresh coat of paint, so hiring a painter for office painting services is an excellent decision. The color of your company's office walls is extremely important. If the color is too dull, employees are bored and unproductive, but if the color is too vivid, they can be distracted or irritated. If you use color in your interior design tactfully, your office painting can serve as a useful tool to promote efficiency and concentration in your workplace.
Factors to Consider Regarding Office Painting
When selecting a paint color for your office, recognizing the power that color has on the emotions and inclinations of people is essential. You must also consider the industry in which your company works and the type of customers that you serve. Some businesses present a more serious demeanor than others, so using playful colors in their office buildings may be inappropriate. Another consideration is the size of your office space. In general, dark colors make small spaces appear even smaller, but light colors make the small spaces look more expansive. Additionally, your color selection process will include not only the shade that you choose but also the saturation of the shade.
What Color Should You Choose for Your Office?
Tan, Brown, Taupe, and Ivory – Regardless of your business's industry, you can play it safe with a variation of brown. Consider using a couple shades of brown with different levels of saturation, such as tan and ivory or cocoa and taupe, to provide some interest to your walls while still remaining fairly conservative with color.
Mint, Sage, and Olive – Shades of green promote harmony, relaxation, and concentration. Consider hiring a painter to apply a green hue to the walls of a meeting room to keep the peace during negotiations or strategic planning.
Crimson, Brick, Cherry, and Burgundy – Although a shade of red can cause a sense of tension, urgency, or aggravation, your painter can apply it to an accent wall to add an intriguing pop of color. Small doses of red can stimulate and energize your employees.
Steel, Powder, and Cornflower – Blue hues are known to elicit calm dispositions. By sticking with subtle blue shades, not electric blues, you can make the workplace appear professional without feeling restricted to neutral colors.
Goldenrod, Mustard, and Buttermilk – You may think that yellow is off limits as an interior painting color for your office, but muted or deep shades of yellow can function very well in the workplace. Yellow inspires creative thinking, but it should be applied with caution because too much yellow can cause anxiety and stress in your employees.
Selecting a paint color for your Jacksonville office should be a thoughtful decision. Consider the atmosphere in which your employees would thrive best and your customers and clients would feel comfortable. Once you've determined a color scheme, contact an experienced painter at St. Johns Painting, LLC to take care of your office painting.