Painting Tips For Rental Homes In Jacksonville, FL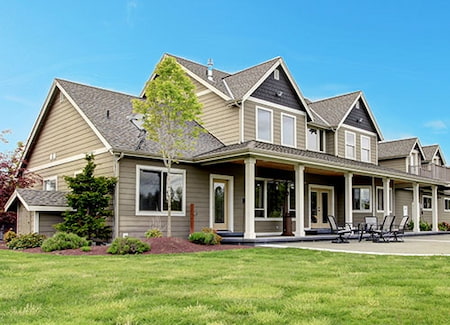 Painting a rental home is much like painting a house to put on the market. As a property owner or manager, you have to make sure that the paint is appealing to a wide range of people. Go too bold or too bright with the paint color and the majority of applicants won't find it attractive. Go too bland and the house has no interest.
Painting freshens the look of the home and makes it appealing so the house rents quickly. But there is a lot more to exterior painting than aesthetics. It also protects and waterproofs the home.
If you are getting a rental home ready for new tenants in Jacksonville, the following tips from the pros at St. Johns Painting, LLC can help you achieve your goals.
Stick To Sophisticated Grays Rather Than Browns
Both brown and gray are neutral colors, which is the right way to go when painting a rental home. While all shades of brown paint have their place, gray is more versatile and contemporary. There is nothing worse than seeing a house with an all brown color scheme, especially in an older home. Since most carpeting installed in rental homes is cream colored, brown paint really ages the design.
Gray is a much more versatile color because of the many different colors that make gray. For instance, to make brown paint, you combine red and green. You make different varieties of brown by using warm or cool tones such as blue and orange.
Even when brown is made with colors like blue and orange, it is hard to match with other browns. This is why it is best left for an accent color if you plan to use it. Gray, on the other hand, can go with just about any other type of gray as well as a thousand other complementary colors.
Gray is made with black and white. These are two most basic colors and this is why it's much more versatile. Other colors are usually mixed in for an upscale contemporary look, but the gray still looks gray.
What happens is those other colors pop, like red and green or blue and orange, when you pair the paint with similar colors in the room. For instance, if you add red to the mix of gray paint, the red tones of the woodwork will stand out more while not sacrificing the look of the gray. Stick with a pretty gray and use a complementary gray tone for accent walls.
Caulking & Waterproofing
The bathrooms in the house need to be caulked and waterproofed. Painting with acrylic paint that has mildew resistant properties is a good idea to protect the walls from moisture damage. Be sure that everything in the bathroom is caulked to keep water out. Caulking and waterproofing are also important for the kitchen, especially around the sink and stove.
If you would like more information about Painting for rental homes in Jacksonville, please call St. Johns Painting, LLC at (904) 755-2961 or complete our online request form.