Top Benefits of Commercial Painting in Jacksonville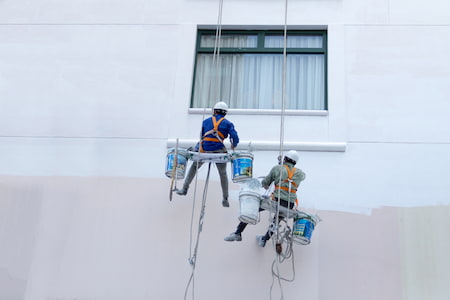 Being a commercial business owner in Jacksonville is a rewarding venture, both professionally and personally. Of course, it does take a great deal of work and maintenance and upkeep of the building is one of those chores.
The problem is that the average business owner is not aware of just how important it is to keep up with essential services, like getting the building professionally painted. If you are not yet convinced of just how much of an impact this can make on your business, here are some things that you should be aware of.
Do You Know the Reasons?
It can be easy to turn a blind eye to the reality of what your building looks like. But one thing is for sure, your potential clients will not. Here are some reasons that you should take this topic a little bit more to heart.
The exterior of your business is what makes the first impression. If the outside of your building is in a state of disrepair or just looks faded or otherwise rundown, you are not going to make the type of impression you want. Without even realizing you've lost business, your customers will end up going some place new.
How your building looks also conveys a message about how seriously you take your business. If you neglect your building, more than likely people are going to assume you neglect your business and clients as well.
This also impacts the morale of your employees, as well as yourself. When the people who show up to work in the building are greeted with a shoddy and uncared for appearance, they are not going to be as motivated as they would be if the outside looked its very best.
It is also important for your competition to take you seriously. Your business should look as if you are at the top of your game. If you let it get rundown, your customers and competition are not going to take you seriously.
In order to make the most of this project, however, it is just as essential to find the right expert to work with to get the commercial painting job done.
Calling in the Reputable Pros
Savvy business owners know the name to trust for Jacksonville commercial painting services is St. Johns Painting, LLC. With over 30 years of professional, hands-on industry expertise, you can rest assured the quality of workmanship is unsurpassed. Give us a call today so that we can take care of the service work that you need and deliver the quality results that you deserve.
If you need to hire a professional painting contractor that specializes in commercial painting services in Jacksonville, call St. Johns Painting, LLC, today at (904) 755-2961 or complete our online request form.