Top Three Reasons to Have Your Jacksonville Home Pressure Washed Before Painting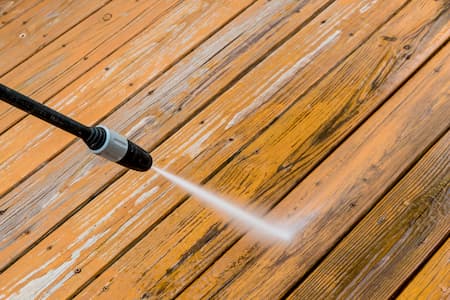 Painting your home's exterior is a great way to improve its appearance and increase its resale value. But it's very important to make sure that the job is as high quality as possible, otherwise the appearance will quickly deteriorate, and you'll have to have your Jacksonville home repainted much sooner than you should need to.
One way to guarantee the best possible exterior painting job is to hire our Jacksonville painting contractors at St. Johns Painting, LLC. We can guarantee excellent that you'll be completely satisfied with. Another important factor to consider when you're painting your home is having it pressure washed prior to painting.
Here are the top three reasons you should have your home pressure washed before you paint it:
1. Pressure Washing Will Give You a Longer-Lasting Paint Job
Jacksonville pressure washing your home's exterior will get rid of a lot of build-up that you may not even be aware of. Dirt and particulate matter are all over your Jacksonville home, and there's also likely a great deal of mold and mildew. Even if you're unable to see these things, it's very likely that they're lining a large portion of your walls. If you paint over them, you won't be painting over your walls at all, but you'll painting this grime instead.
Is that really a huge problem? Actually, it is. When you paint over grime, fungus, or mold, you'll see the paint start chip and peel away very soon. The paint will react to heat and rain much more quickly, and it will be very noticeable. Pressure washing is a great way to ensure that your exterior paint job will be a lasting one.
2. Your Garden Hose Won't Do the Job
Unfortunately, there's really no DIY version of the pressure washing job a professional can offer your Jacksonville home. Using an ordinary hose for the job won't give you the intended effect, as you'll never be able to achieve the high amounts of pressure you need to remove much of the grime, even if you're able to notice a significant visible difference. And what you can't see is what will end up causing you the most problems down the line.
The mold and mildew that we mentioned earlier in the article is a lot tougher to remove than you may thing. Power washing is the only way you'll be able to remove enough build-up to have a significant effect on the quality of your paint job.
3. Professionals Know Exactly What to Do—And What Not to Do
You've already hired a professional for the painting, so why hire another contractor to handle this part of the job? The first part of the answer is that it's worth it. No one likes spending more money than they need to, but these services are a worthwhile investment that will save you money in the long run.
Secondly, our painting contractors can also handle the pressure washing services. We'll use the perfect amount of pressure, so we'll be able to thoroughly clean your walls without damaging any part of your property.