Your Top Pressure Washing Concerns for Your Home Addressed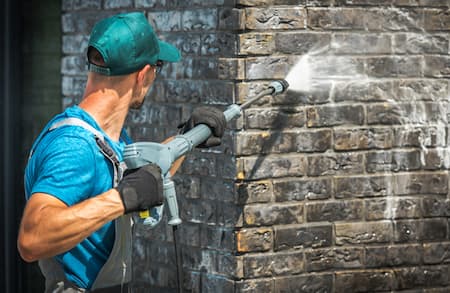 It's unavoidable; at some point you're going to need your home's exterior pressure washed. In fact, it's something you should have done on a fairly regular basis and something you shouldn't be avoiding.
While it's painting contractors you're usually hiring to take care of power washing, it doesn't have to only be right before you have your home painted. You may be getting ready to put your property for sale on the market, about to have family visit, or just want a cleaner appearance - all good reasons to get this task taken care of.
FAQs to Understand Pressure Washing
If you're not sure you need pressure washing, get familiarized with the process and get your questions answered, first. A few of the most commonly asked questions for power washing are:
Question: Why can't I do my own power washing? There are a few reasons that this isn't the best idea. For one thing, it can be quite dangerous to use high pressure water in an effort to clean outside your home. Plus, the results are hardly ever as close to as thorough as what a professional can get done. Why even take chances when you can hire a professional.
Question: What types of surfaces can be power washed? There are a number of exterior surfaces that are suitable for professional power washing and a few that aren't. Some examples of parts of the outside of your home that can be cleaned in this manner, this includes decking, siding, brick, concrete, gutters, and more. However, painted brick should be treated with greater care. Also, your roof requires a soft wash process in order to avoid possible damages.
Question: How are power washing jobs priced? As with any type of work for your home, there are a number of factors that determine the final cost of your power washing job. Some examples of these factors include:
The size of the house
The type of siding you have
The condition and age of the home
How long the overall job will take
Question: What's the difference between power washing and pressure washing? Honestly, the two terms are used interchangeably because they're basically the same thing. Some companies use greater PSI for power washing than pressure washing but mostly it;s the same. The real difference comes between power washing and soft washing; the latter being better for more delicate surfaces like the rooftop.
Question: Can you pressure wash windows? As long as the job is taken care of by professionals, power or pressure washing is appropriate for windows. This must be done with skill and care in order to prevent possible damages.
To find out more or schedule pressure washing service for your Jacksonville home, call our pros at St. Johns Painting, LLC.